Saturday 21st January – Cranleigh Arts Centre starring Billy Branch and John Primer
An incredible package featuring the greatest living examples of the art of Chicago Blues both from the established veterans of the scene and the "Youngblood" talent be prepared for an incredible concert experience. With Blues music award winning special guests Bruce Katz and Giles Robson also featured, this is set to be the knockout blues show of the year!
Billy Branch (Chicago USA)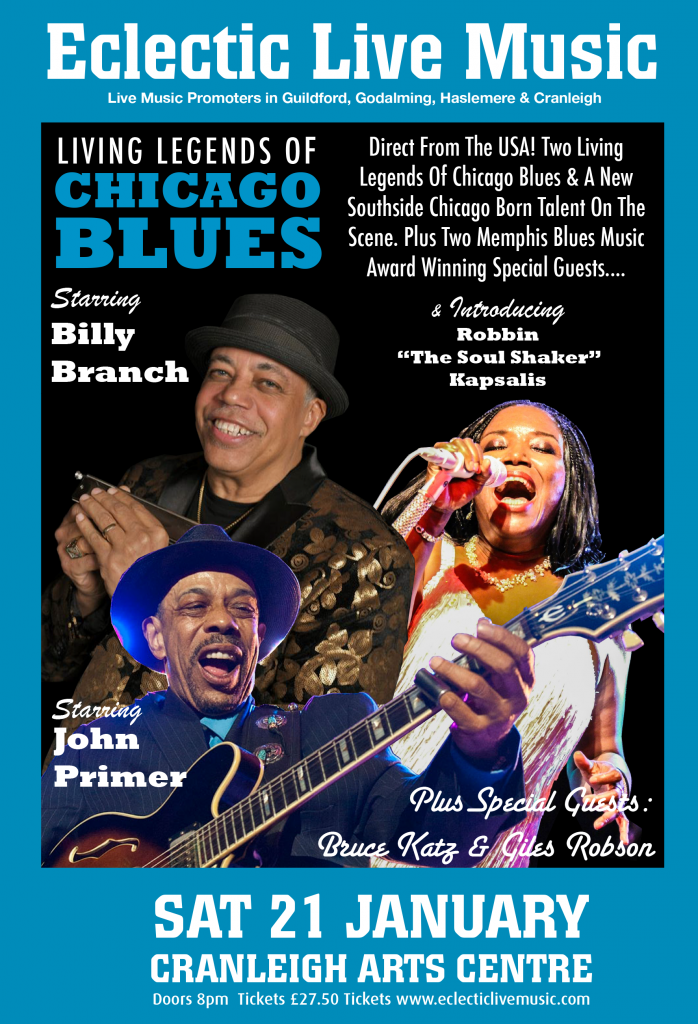 Blues giant Billy Branch is among today's greatest harmonica players. With his inventive, deeply rooted playing and gritty, soulful vocals, Branch carries on the Chicago blues tradition that he learned first-hand from icons including Big Walter Horton, James Cotton, Junior Wells, Carey Bell, Willie Dixon and many others. His famous teachers made it clear to anyone who would listen that Branch was the heir apparent to the Chicago blues harmonica throne. Branch is among the very last living bluesmen to have been tutored and mentored by the original blues giants. The young bluesman was able to absorb the tradition and over the years develop a style and sound all his own. With a huge blues vocabulary and dynamic versatility, Branch brings elements of soul, funk and rock to his playing. His upper register licks and his emotional, melodic ballad playing define his sound even further. He is a gruff and potent vocalist, a groundbreaking solo artist, an in-demand session player and consummate band leader. He is an Emmy Award Winner, three-time Grammy nominee, a three-time Blues Music Award winner, a two-time Keeping The Blues Alive Award winner (for Education) and a two-time Living Blues Critics' Award winner. Branch has recorded eleven albums under his own name and has appeared on scores of other recordings.
John Primer (Chicago USA)
Lead guitarist of the Muddy Waters Band and preceding that, the Willie Dixon band and then after Muddy's death an integral part of the Magic Slim Band the Blues Music 2x grammy nominated and Blues Music Award winning Chicago Blues Legend has gone on to become an incredible front man and an internationally renowned solo artist in his own right. Since his debut solo album "The Real Deal" on Atlantic Records his career has Been a nonstop triumph – from great award winning recordings to international touring and unforgettable live performances John has fulfilled and continues to fulfil the dreams of success in music that he had when he made his first guitar attached to the front porch out of a broom wire, two nails and a brick to make it tight at his house on sharecropper land deep in the Mississippi.
Introducing Robbin "The Soul Shaker" Kapsalis
Robbin is a relatively fresh face on the Blues & Soul scene but making inroads this side of the Atalantic with sold out shows in Czech Republic, Belgium playing to ecstatic audience responses. Robbin was born on the Southside of Chicago and soaked up the sounds of the legendary blues city before moving to be raised in Atlanta, Georgia. Featuring a powerful and commanding voice that is steeped in the greasy and dirty but still emotionally affecting side of blues, Robbin has all the understanding of the classic phrasing, textures, rhythm and attitude of the music. She adds something fresh and sassy to the mix too – so is very much rooted in our time. And as a charismatic front woman, she is second to none with an energy level that is unrivalled in the blues scene today. Think – a 21st Century Koko Taylor and you might have an idea of the talent level on display here.
Special Guests Bruce Katz (New York USA) and Giles Robson (UK) The legendary keyboardist Bruce Katz and renowned UK harmonica virtuoso Giles Robson first worked together on Alligator/Munich Records Journeys To The Heart Of The Blues which won a Blues Music Music Award and was a Living Blues album of the decade. Collaborating once more on Robson's "Don't Give Up On The Blues" the album went on to be named a Mojo Magazine album of the year and Jefferson blues magazine (the world's oldest in print blues magazine) called it the best blues release of the year.